Where are Rolex Watches Made? Process & Information on Manufacturing
Rolex movements, cases, bracelets, and even boxes and documentation are all Swiss-made, so every genuine Rolex watch is made in Switzerland. The Rolex company creates most parts of its watches in Geneva, Switzerland, and is often considered to be the benchmark for Swiss watchmaking.
Remember: any Rolex watch that is not Swiss-made will not be genuine.
As buyers of luxury timepieces and other high-value items, including Rolex watches, we are well-placed to explain a bit more. Get in touch if you would like to sell your old watch with us.
How Rolex Watches are Made
Many luxury watches are assembled in the Geneva region of Switzerland, which is part of the Chêne Bourg municipality. From design to final testing, all Rolex watches are made in-house.
The patented designs, high-quality cases, bracelets made from stainless steel or precious metals, and everything else, come together in a precise process that includes:
Designs: Of course, the watch appearance is designed in-house. But so is every screw, cog, coil, and spring, as well as any other part of the movement. Rolex used to incorporate parts from other companies but has steadily integrated every aspect of the watchmaking process into its own sites in Switzerland, so the company does not have to rely on anyone else.
Metals: Metals are very important to the quality and value of the watch and the look of the famous Rolex Oyster case. Metals need to be of particularly high quality for diving watches such as the Rolex Submariner and Sea Dweller to avoid corrosion. Rolex has its own foundry to ensure that all of the metal alloys are of the highest grade possible.
Finishes and colouring: For a Rolex, everything from the luminous dial coatings to the colour or finish on the bezel is developed and produced by a team of scientists and makes use of proprietary substances. Examples include a luminescent compound (Chromalight), but they can even include special lubricants for use in a movement.
Assembly: The most crucial aspect of making a Rolex watch is the assembly. All of the assembling is done by hand, never by machine, and the use of precision tools by top technicians. Some machines are used for testing but under close supervision, and all diamonds or other gemstones are set entirely by experienced gemologists, by hand.
Although the broad answer to 'where are Rolex watches made' is Switzerland or Geneva, there are a few different facilities across the Geneva area where the Rolex company puts its strict watchmaking techniques into practice. Rolex manufacturing sites include:
Les Acacias, where the company's headquarters are located, which is an intermediary region between Geneva and Carouge
Plan-les-Ouates, which is where the company's foundry is located
Bienne, which is a town to the north of the Chêne Bourg municipality, where the technical parts of the movement are made
Geneva, where the gem setting and dials are completed
The different sites serve different purposes and are used to create slightly different parts of the watch, but they are all located within a relatively small area. Across all of the manufacturing sites, Rolex can produce almost 1 million of its watches annually.
Why are Rolex Watches Made in Switzerland?
To put it frankly, Rolex watches are made in Switzerland as a method of quality control. Rolex watches are not just made for their style or the glamour of their yellow gold, white gold, everose gold, or other materials; they are made to perform. All Rolex watches are designed to be a lifetime companion for your wrist.
With the Rolex company, the emphasis is always on how good a watch can be, not how many can be made. The company takes a lot of time to create each watch. From the metals to the final testing and distribution, it will take almost a year per watch, sometimes more. The focus is only on quality and performance, which is part of the reason that a real Rolex will cost so much.
How Can You Become a Rolex Watchmaker?
Genuine Rolex watches are not made anywhere outside of Switzerland and manufacturing often relies on the quality of home-grown watch manufacturers, but they do have talent from other countries working for the company too.
To become a Rolex watchmaker you must normally have prestigious qualifications and training through apprenticeships and formal training in horology, which is the science of measuring time. There are schools in Switzerland dedicated entirely to horology, like attending a medical or technical institute.
However, Rolex also uses talented people who have training in disciplines related to medicine, engineering, and other sciences. Chemists, physicists, metallurgists, and many other types of professionals are still considered part of the team of watchmakers at the Rolex company.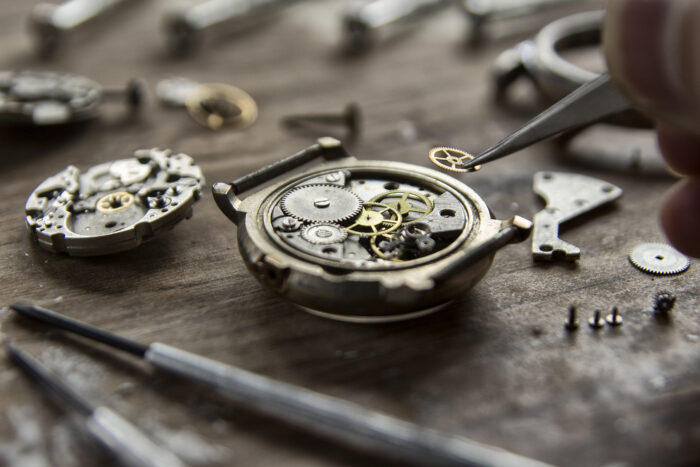 ---
Where are Rolex Watches Made Explained
From the case, bracelet and glass of the watch to the dials and gem settings to painting each of the luminous hour markers on the watch dial, all genuine Rolex watches are Swiss-made. Any type of Rolex or component that is made outside of Switzerland cannot be considered genuine.
We hope you understand some more about how and where Rolex watches are made and the precision of the process involved. Their quality is why we can offer such high prices for people who are looking to sell a Rolex watch in the UK.
Get in touch with us to book a free valuation.