What to Know About Selling Antique Silver Spoons
At Burlingtons we offer a private buying service for your antique silver spoons. Our experience and knowledge of the market enable us to always offer you the best price, and we are also able to provide immediate payment for your old antique silver spoons.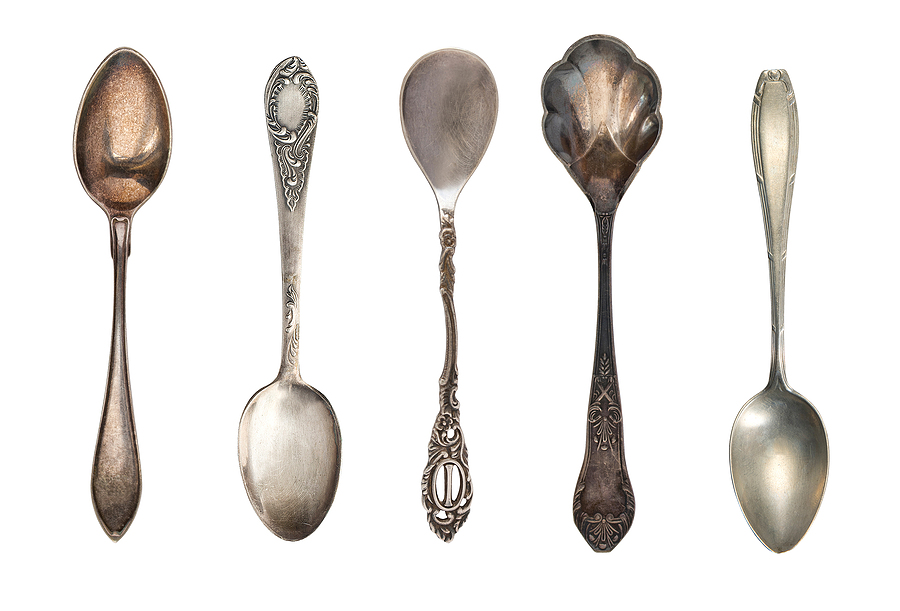 Selling Antique Silver Spoons
We purchase many kinds of silverware and silver spoons are something many people regularly buy and sell. We will carry out our valuations in the comfort of your own home. We know about the current trends – and can spot a good item and pair it with the right dealer, or collector.
We have had the pleasure of being able to cultivate many relationships with traders and private collectors over the years to help provide you with the best deal. You should contact us today for a free no-obligation valuation of your antique spoons or other antiques.
---
Get a Professional Valuation on your Antique Silver Spoons
---
What Makes Antique Silver Spoons Appealing to a Buyers?
Silver is a malleable and versatile material with many standards and levels of fineness. This makes it useful for a wide variety of functional objects, including silver spoons and other antiques across many centuries.
People enjoy silver spoons and will buy your old antique spoons for a variety of reasons. Collectors want them for their value and designers want them for their aesthetics. Other reasons people buy them include the following:
History: Whether a famous manufacturer or an interesting classical affiliation, an antique spoon tells a story. Some come from naval ships of historical note or may formerly belong to well-known families. This can make them fascinating archival objects with a unique past for many buyers.
Heritage and gifts: A silver set of spoons can make an amazing gift for a wedding or other celebration. Not only are they frequently ornate and beautiful, but they also hold their value. This is a key part of the appeal of spoons for a buyer and seller alike.
Functionality: Not only is a spoon inherently functional in itself, many people believe it makes food taste better. Silver also has natural anti-microbial properties, which means it was much safer to use before the days of refrigeration.
Silver has a long history of use and a level of prestige that makes it an asset. Aside from the value of the material itself, silver spoons demonstrably have appealing characteristics for buyers of all kinds. As a result, you can be confident that your antique spoons will sell for a good price.
How We Value and Buy Your Silver
People want to be sure that their valuations come from a knowledgeable and discerning expert. We are able to provide an authoritative assessment by drawing on our years of experience.
Many families have pieces of silverware and other antique items that are of high value. They are not only valuable as a commodity but also from a heritage point of view. This is why we recognise the need to provide a professional service with no hidden fees and a sale price you will not achieve at an auction.
We want you to feel satisfaction when selling at every stage. No matter what type of item our client wishes to sell, we will always endeavour to offer them the best experience possible.
To deliver the best and most professional service we provide the following as a part of our service:
Privacy and Security
Items of high value are very precious and so we provide a private estimation service with no obligations, in your own home, when you're ready to sell. This gives both us and you plenty of space and time to examine your antique silver spoons without interruption.
No Fees or Commission
Selling your items at an auction will involve fees and commission, you may be looking at a 40% charge against the overall value of your item. The transport and photography necessary for an auction also adds a further cost. This is frustrating for many sellers.
Buying with Burlingtons avoids any auction fees. Many people also forget that if their item does not sell at auction they must still pay insurance and illustration fees. We cut out the impact of commission by relying on our direct relationships with dealers and collectors.
Best Value for Your Items
Our experience, spanning back 20 years, gives us the ability to sell directly to a network of people for the best deal. Antiques are all about relationships, and we develop them consistently throughout our buying and selling process.
We have seen a great many antique silver items and will instinctively know their value, who would like to have them and what they will be happy to pay. Consequently, we can always give you the best price possible.
UK-wide Buying Service
We aim to provide a private buying service that is personable, dependable and ethical – this affords us many happy clients. We avoid auction house costs and push the savings on to you.
At Burlingtons we have the competence and experience to buy various categories of antique. We have many types of silverware currently in stock. Take a look for an idea of the kinds of silver items that we value and sell.
When You're Ready to Start Selling Your Antique Silver Spoons
Silver spoons come in many varieties. Dessert spoons, caddy spoons, teaspoons, serving spoons or other varieties. Spoons are functional but also can be very striking and beautiful. As a result, people always want to buy them.
Silver items of all kinds may also come in various weights and standards, such as Britannia or sterling. Because of this, determining the value is complex for people looking to sell. Thankfully our private valuation service can help establish the true value quickly and fairly.
The first thing to do when you're ready to sell your antique silver spoons is to contact us. We will be happy to assist you and get your estimate underway. If you accept our valuation we will then provide you with immediate payment.