How to Buy and Sell Rolex GMT-Master II Watches
The Rolex GMT-Master II is a professional-grade luxury watch designed for aviation. The original GMT-Master is a favourite among collectors of Rolex watches and the GMT-Master II is an update that was first released in the 1980s. The updated design of the GMT-Master II includes some more luxurious elements, which reflect the modern Rolex brand better than the 1950s design.
Whether you are interested in buying or want to sell your Rolex GMT-Master II, there are many appealing features of the watch. Highlights of the Rolex GMT-Master II include:
Luxurious materials: The original GMT-Master was made exclusively from stainless steel, keeping within the functional ethos of a pilot's watch. However, the GMT-Master II includes new materials like yellow gold, white gold, everose gold and everose rolesor, which is a combination of everose gold and Rolex's famous Oyster steel.
Bidirectional bezels: Similar to the GMT-Master, the Master II has a 24-hour bidirectional bezel – for timekeeping across multiple time zones when in the sky. Several references on the Master-II feature ceramic bezels, which use a bezel insert made of ceramic in various colours. This is something Rolex describes as Cerachrom.
Large cases: Unlike one of the other famous Rolex pilot's watches, the Air-King, there are quite large case sizes on all GMT-Master II watches. 40 mm Oyster cases are the standard, but there are also many differences in thickness depending on the Master-II reference you have. New Master-II houses the chunky Rolex calibre 3285 movements.
The Rolex GMT-Master II is worth a lot to collectors on the second-hand market. If you want to sell Rolex GMT-Master II watches, or even many other types of luxury watches, you can avoid auction fees by using our private buying service. Please feel free to get in touch to book a free valuation and see how much your GMT-Master II watch is worth.
Burlingtons Ltd have been buying and selling Rolex watches for over 20 years. Our experts are on hand to give you the best evaluation for your watch .
More About Rolex GMT-Master II References
The majority of GMT-Master II watches feature the classic Oyster bracelet, which is considered a 'performance' bracelet ideal for professional watches. However, some references feature the more ornate Jubilee bracelet, which is considered a bit more delicate and luxurious.
There is some confusion between the original Master and the Master II, perhaps because the first Master IIs came out in 1982 and the original model was still made concurrently until 1999. Aside from the obvious 'Master II' on the dial, they often look very similar to the original design.
The GMT-Master and the Master II are iconic watches and are worth a lot to the right collector. Let's look at some of the most notable references and why they make wonderful watches:
---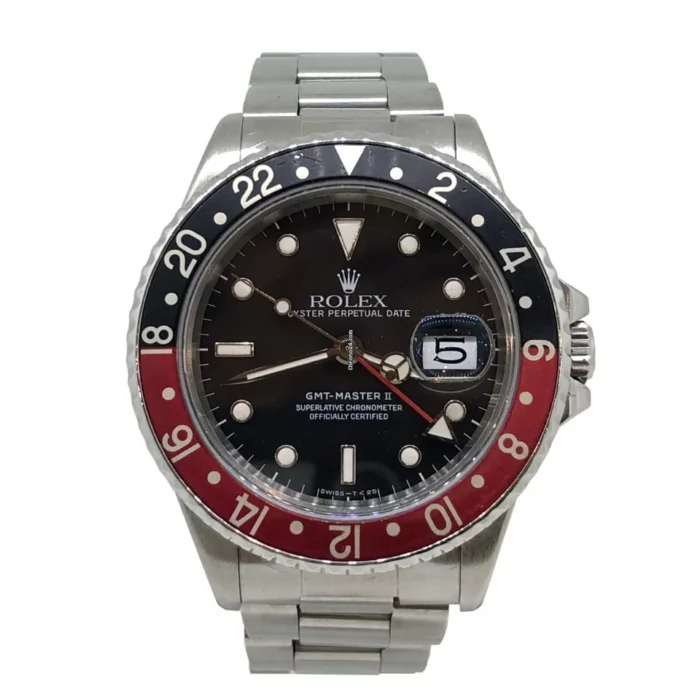 Rolex GMT-Master II ref. 16760
The 16760 is the first Master II, released in 1982, and is notable as it honours the original design very faithfully but with a few modern additions. Most strikingly, the 16760 introduced a black and red bezel. Fans call the blue and red ceramic bezel 'the Pepsi' and the black and red 'the Coke'.
The other more practical additions were the inclusion of sapphire crystal, which resists scratches, and the independent hour hand, which lets you set the hour without adjusting the minutes once you arrive in a new time zone. People affectionately nickname the 16760 'the Fat Lady'.
---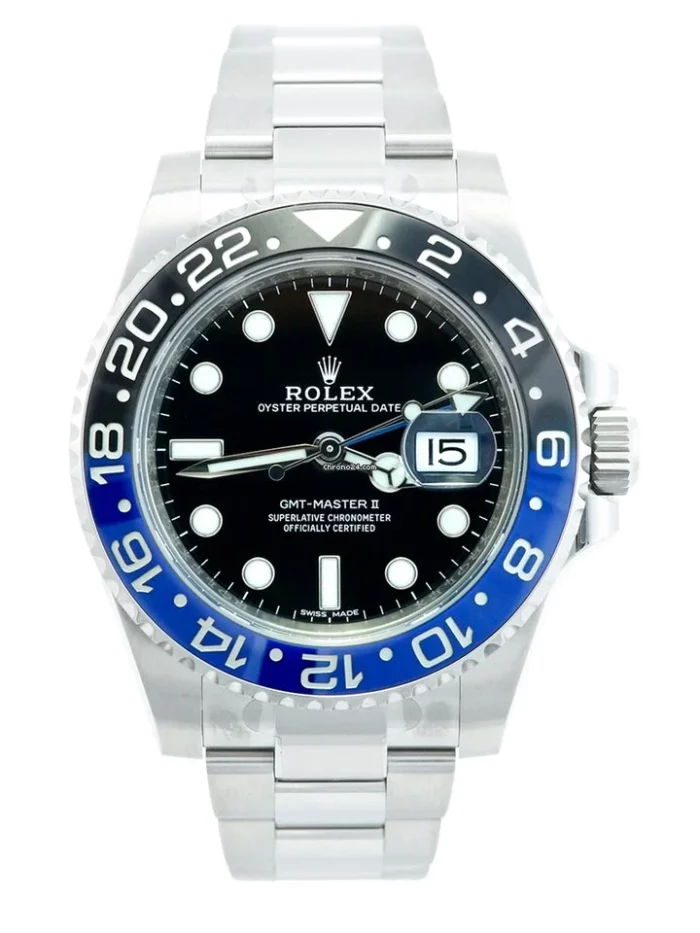 Rolex GMT-Master II ref. 116710BLNR & 126710BLNR
There are a few different references with the nickname 'Batman', but the original release is the 116710BLNR. It gets its name from the black and blue ceramic bezel insert. It looks cool and is more subtle while still including the bi-colour design. The 116710BLNR has an Oyster bracelet.
The other stainless steel variant of this reference, the 126710BLNR, has a Jubilee bracelet, so this is a good GMT-Master II reference if you want a different look than most. The 126710BLNR also has a slightly slimmer profile, so it is a good Master II for people who have slimmer wrists.
---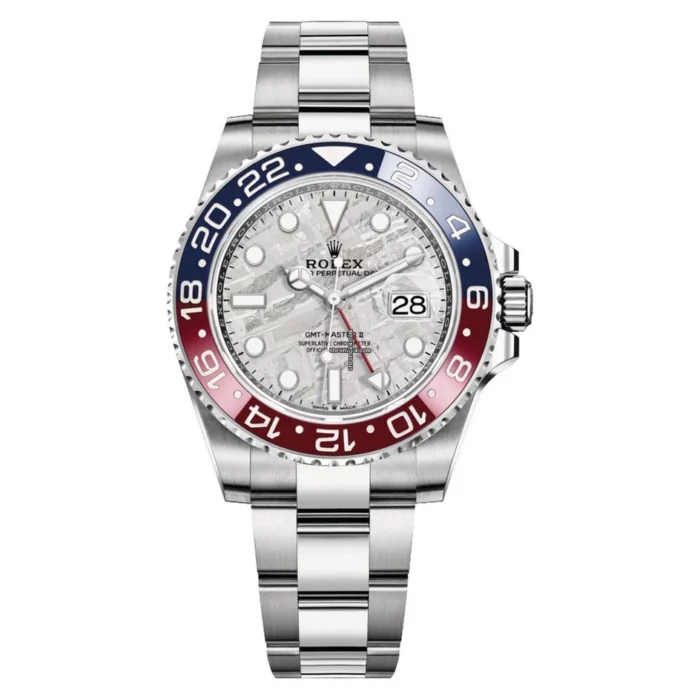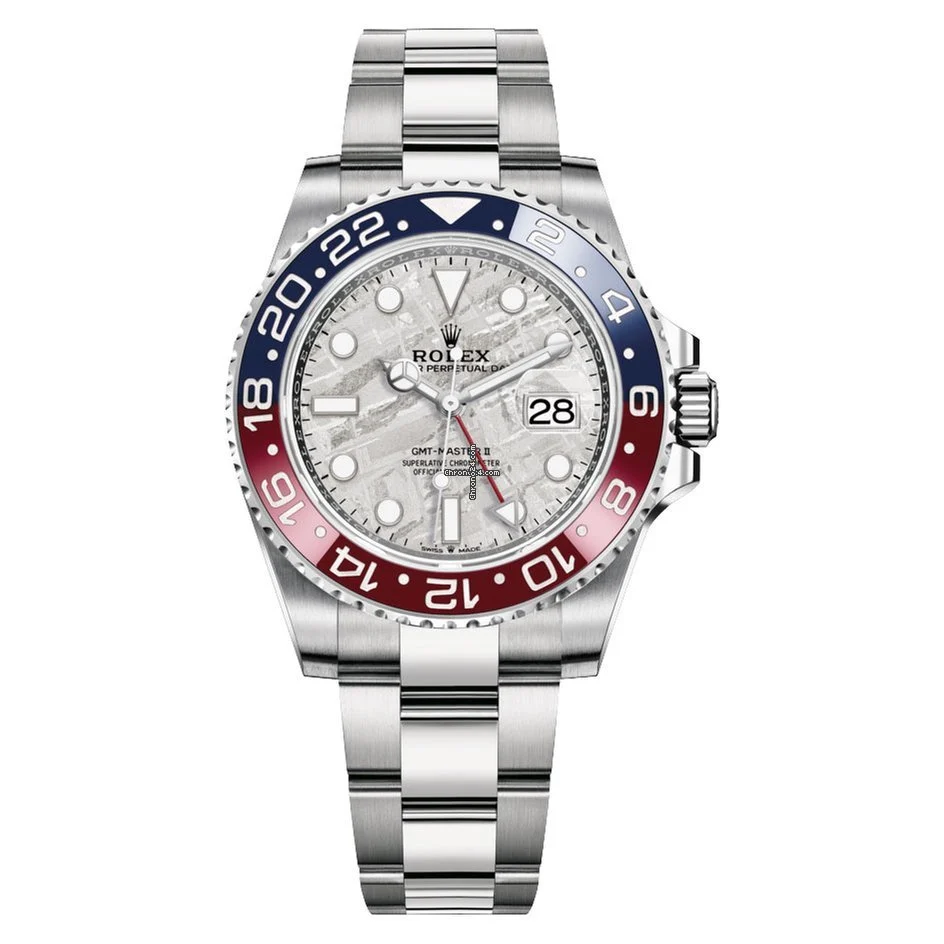 Rolex GMT-Master II ref. 126719BLRO
As we know, the Master II was a luxurious upgrade to the original Master and nowhere is this more apparent than in the 126719BLRO reference, which uses solid 18ct white gold. The materials themselves are worth a lot of money, but the overall design is very collectable too.
The white gold is a wonderful choice as it mimics stainless steel somewhat, while being incredibly bright and unique to the Master and Master II designs. This is a relatively new reference and is also available with a glowing meteorite dial for extra visibility while in the air.
Burlingtons Ltd have been buying and selling vintage Rolex watches for over 20 years. Our experts are on hand to give you the best evaluation for your watch.
How to Buy a New or Used Rolex GMT-Master II
The Rolex GMT-Master II is worth quite a lot new or on the second-hand market, but they are not so sought after that they are impossible to get. Both generations of the GMT-Master have been incredibly popular over the years and they were produced alongside each other for almost two decades. As a result, there are plenty of Master II watches of various references out there to buy.
The best way to buy a used Rolex GMT-Master II is to check out our current stock of luxury watches. We have a lot of GMT-Master and Master IIs in stock fairly regularly, so be sure to check back often. If you want to buy a new Rolex GMT-Master II you will need to find an Official Rolex® Retailer, which you can do on the official Rolex website.
How to Sell Rolex GMT-Master II Watches Second-Hand
You can easily sell a Rolex GMT-Master II, as they are very popular and all references are in fairly high demand. However, you may run into problems resulting from auction fees, which can substantially reduce the amount you will get. You will find our private buying service helps you avoid all fees when you book a valuation to sell Rolex GMT-Master II watches with us.
The selling process is very simple and uses the following steps:
Booking your valuation
Once a time and date have been agreed, we will visit you at your place of residence to conduct a private valuation.
Accepting our offer
Once we have inspected your rolex watch, we will make you an offer.
Receiving your payment
You will receive your payment then and there through BACS as this is the fastest form of payment.
Book a valuation: Your first step will be to book a free valuation for your Rolex GMT-Master II with us, which will help us determine exactly how much it is worth. The valuation will take place in your home at a convenient time of your choosing.
Accept our offer: When we visit you, we will conduct a thorough appraisal before making a fair offer. We are confident that you will accept and we will offer details on why we have arrived at this price if you require them. All of our offers are obligation-free.
Receive payment: After you accept our offer you will receive a full cash payment for the value of your Rolex GMT-Master II and any other items you are selling. We make payments via BACS and do not leave with your items until the cash is in your account.
We are sure you will find the selling process very refreshing, as it is fast, smooth and presents minimal hassle. We find our values of honesty and professionalism put people at ease, and many clients appreciate the service we have built over our 20 years of experience in the trade.
There's no need to take our word for it! Many people leave enthusiastic reviews of our incredible buying services. See below for what one very happy person has to say about us:
---
"10/10 An almost 'unbelievable' service. Within an hour after phoning 'Burlingtons', Daniel arrived at my home and offered me the exact price that he had quoted. He told me the 11 yr old watch was pristine. He could have told me it was a bit battered just to get a reduction in the price and I would have believed him. The payment was made instantly over the phone. I would thoroughly recommend using this company. I trusted Daniel and that says it all."
– Ian Shirley, London
---
Almost every client we work with has been extremely impressed by our levels of service, so we get lots of glowing testimonials. You can check out more of our rave reviews on our homepage.
Are you looking to sell your Rolex watch? Our offer will be higher than you can achieve at auction.
How Much is a Rolex GMT-Master II Worth?
The answer to how much a GMT-Master II is worth depends on various factors, such as age, condition, reference, and materials used. So, it is difficult to determine the exact price without a professional valuation. Another factor that can affect prices is whether you have the original box and papers, which will affect the value when it is time to sell a Rolex of any kind.
Buy & Sell Rolex GMT-Master II Watches
The Rolex GMT-Master II is a new generation of a classic design, putting a luxurious spin on what was originally a professional watch for pilots. There are lots of bezel colours, material choices and bracelet options that make the GMT-Master II valuable to watch collectors around the world.
We buy high-value items, including Rolex watches, and we appreciate the uniqueness of the Master II. You can sell your Rolex GMT-Master II watches with our private buying service quickly and with zero hassle. Please feel free to get in touch with us to book your free valuation today.