Buy and Sell Rolex Air-Kings: Rolex's Classic Tribute to Aviation
The Rolex Air-King is a luxury watch introduced in 1945, after the Second World War, as a tribute to the pilots in the Battle of Britain. The Rolex Air-King watch is usually a stainless steel utility watch designed for aviation. Although primarily designed with pilots in mind, the Air-King is a design classic and is one of the oldest and most historically important Rolex watches of all time.
Second-hand Rolex Oyster Perpetual Air-Kings and similar variants are collectable and have a wide variety of references. Classic features on most Air-King references include:
Small cases: It is a curious trend, but watch cases have become larger since the 1950s. Indeed, in 1945 pocket watches were still very common. So, Air-King's most notable feature is a relatively small case size. Most vintage models tap out at about 36 mm and even modern Air-Kings only hit 40 mm at most. Many people enjoy the low-key size.
Stainless steel materials: The Oyster case and smooth bezels and bracelets (mostly the Oyster bracelet but occasionally the Jubilee on vintage models) are almost all made of Rolex's famed stainless steel. The idea is for high-performance and durability during aviation, but some uncommon varieties have white gold bezels or diamond straps, too.
Basic dial colours: Unlike the other pilot's watch made by Rolex, the GMT Master, the Air-King does not use a timing bezel and opts for simple dial colours, such as white, black, blue or salmon. This is because the main concern in 1945 was to be able to read the dial quickly during a flight, so basic colours help achieve this for the wearer.
You can sell your Rolex Air-King with our private buying service, which will let you avoid all auction fees. You will see an impressive service that lets you sell many types of watches, including pre-owned Rolex Air-King models of various vintages, when you get in touch with our friendly, honest and professional watch buyers to book your free valuation.
Burlingtons Ltd have been buying and selling Rolex watches for over 20 years. Our experts are on hand to give you the best evaluation for your watch .
More About Rolex Air-King References
There have been a lot of redesigns and refinements over the years, with the first Air-Kings created by the founder of Rolex, Hans Wilsdorf, who lived through both World War 1 and World War 2. For the most part, references are high-performance designs with low emphasis on materials.
A fun fact about the Air-King is that it is the only remaining production model of the Air Series of watches, which included an Air-Lion, Air Tiger and Air Giant model. The majority of collectable Air-Kings are vintage, and new retail models are difficult to source from Official Rolex® Retailers.
So, it's a simple, historic and somewhat scarce model. Let's explore some of the references and what makes them so brilliant to wear, buy, sell, collect or simply appreciate as top watches: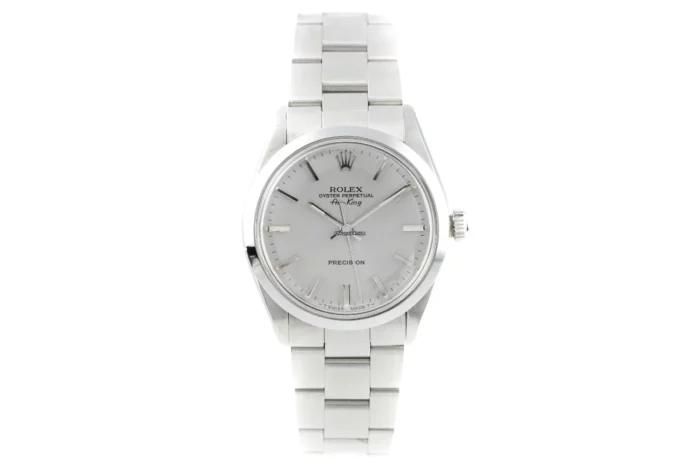 Rolex Air-King ref. 5500
This Rolex Air-King 5500 is the quintessential design of this model. As it is such an old watch, the 5500 is a relatively modern addition with models still being made up until 1989. Many people consider the 5500 as the original Air-King of the modern era – as does the Rolex company.
It has many of the classic Air-King features, such as the plain dials, stainless steel materials and a small 34 mm case. There is no date display, so it is quite good for people who want a Rolex without unnecessary frills. The 5500 is very collectable and always in fashion.
---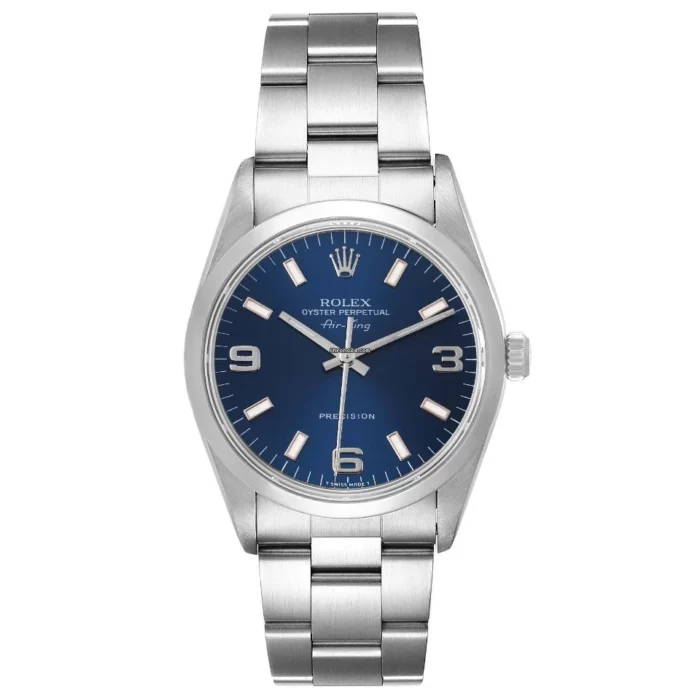 Rolex Air-King ref. 14000
The Rolex Air-King 14000 is the upgraded version of the 5500. The 14000 adds some modern features, such as the engine turned bezel that is available alongside the classic smooth bezel look. The crystal sapphire across the watch face is another upgrade that resists scratches.
The 14000 was made from 1989 to 2006, and the newer version (the 14000M) has an upgraded calibre for better timekeeping. The 14000 has classic dial colours, so there is room for some customisation among collectors. It still looks quite small, housed in the classic 34 mm case.
---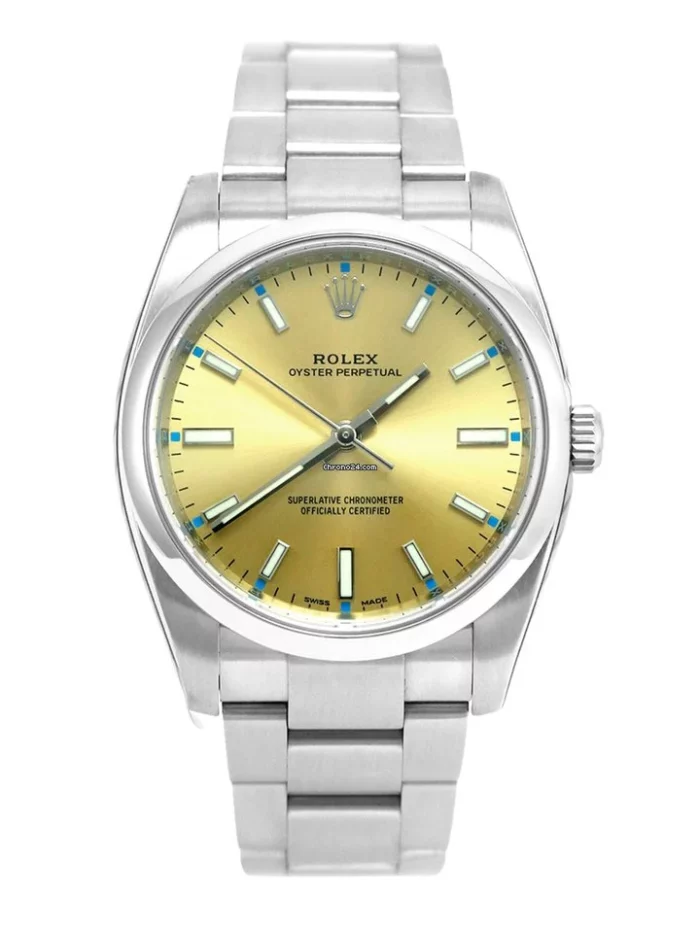 Rolex Air-King ref. 114200
This Air-King has been a stalwart over the years of Rolex and is an interesting addition to our list, as it is one of the few models that was available with other materials. In this case, the other material present is a white gold bezel. Not all 114200 references have different materials though, so you will get the classic steel appearance on most.
The 114200 makes the list for another reason, too; it's the first Air-King with a COSC-certified movement, so it has greater precision and more accurate timekeeping than older Air-Kings. The 114200 uses the same 34 mm size case. As a short production run, it is desirable to collectors.
---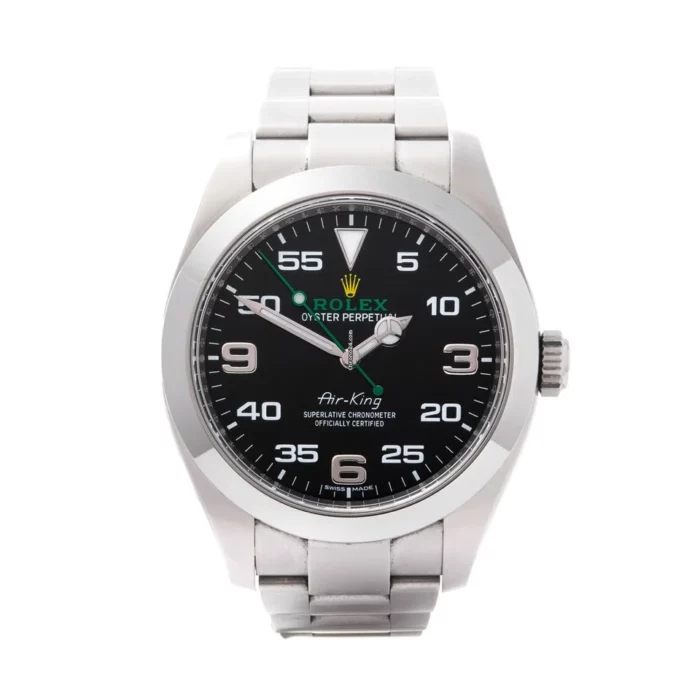 Rolex Air-King ref. 116900
The modern era has seen the 116900 become popular on the market. Released in 2016, these are models with a nice 40 mm case – finally upgrading the size to be in line with other Rolex models. It uses an anti-magnetic case and movement (the same as on the Milgauss), making it perfect for flights.
You lose out on dial colours for this model. It comes in black with highly-visible white minute markers, but it's more of a pilot's watch for modern aviation. The 116900 is a great watch for the utility or tool style of Rolex. Still available new, the 116900 is considered an entry-level Rolex.
Burlingtons Ltd have been buying and selling vintage Rolex watches for over 20 years. Our experts are on hand to give you the best evaluation for your watch.
How to Buy a Used or New Rolex Air-King
When you buy or sell your watch you may find that it is not the most popular watch in your local high street shops. You might even have to look pretty hard online for popular Air-King references, as although they are an entry-level Rolex with few precious metals, diamonds or other fittings, they are prized by collectors. If you can get an Air-King, they are ace investments.
To buy a used Rolex Air-King your best bet is to check out our current stock or contact us to see if we have any coming into stock soon. If you want to buy a new Rolex Air-King you will probably have a hard time even when looking at Official Rolex® Retailers, but you can try your luck by finding one on the official Rolex website. It is a good idea to get a used vintage Rolex and see how you like it first.
How to Sell a Second Hand Rolex Air-King
You can sell Rolex Air-Kings in many places thanks to their popularity. However, if you sell yours with an auction house you may be charged fees. The best way to avoid all fees is to sell Rolex Air-Kings using our private buying service, which always gives you the best price with no fees.
The buying process is very simple and works in the following way:
Booking your valuation
Once a time and date have been agreed, we will visit you at your place of residence to conduct a private valuation.
Accepting our offer
Once we have inspected your rolex watch, we will make you an offer.
Receiving your payment
You will receive your payment then and there through BACS as this is the fastest form of payment.
Book a valuation: The first step is to get in touch with us and book a valuation. We will visit you in your home; we operate nationwide but our registered office is in London, and conduct the valuation in private. We will ask for a few details before we visit you.
Accept our offer: We will carry out a thorough valuation process and make an offer. If you have any questions about how we arrive at our final price we can explain the relevant factors in our decision. We are confident you will accept our generous offer.
Receive your payment: Once you accept, we will make a full cash payment for your watch. When you sell Rolex Air-Kings or any of the other items that we buy you will always get complete payment via BACS. We can work out another payment method if you would prefer this.
We can usually complete our transaction very quickly once we arrange a convenient time to meet. We are also sure that you will appreciate the honesty and professionalism of our buying services, which will put your mind at ease when selling what is often a high-value watch.
Our amazing service receives high praise from happy clients. One person says the following about us:
---
"10/10An almost 'unbelievable' service. Within an hour after phoning 'Burlingtons', Daniel arrived at my home and offered me the exact price that he had quoted. He told me the 11 yr old watch was pristine. He could have told me it was a bit battered just to get a reduction in the price and I would have believed him. The payment was made instantly over the phone. I would thoroughly recommend using this company. I trusted Daniel and that says it all."
– Ian Shirley
---
You can check out more incredible testimonials from happy clients on our homepage.
Are you looking to sell your Rolex watch? Our offer will be higher than you can achieve at auction.
Buy and Sell Rolex Air-King Watches
There are many benefits to Rolex Air-King's classic, simple and timeless design – particularly for collectors. As a result, they are very popular on the used and new market, which means you can sell Rolex Air-Kings quite easily, and for a good price second hand.
Air-Kings are a tribute to aviators and will prove a good investment to many keen watch fans. Contact us if you have an interest in buying and we will see if we can help. To sell Rolex Air-King watches and many other items with no auction fees please feel free to book a valuation with us.