What Are the Best Rolex Watches for Men?
Rolex Watches for Men
There is a large selection of Rolex watches for men, primarily, that typically feature larger wrist bracelets and other masculine features. A broad selection of Rolex watches with designs for all tastes has been popular with men historically, and are aimed towards the male market. We can show you a list of the best watches to suit men well and that are also key to the Rolex watch brand.
Although anyone can wear these watches in theory, the following are some popular Rolex watches for men:
If you want to buy or sell Rolex watches for men, or any of the other items that we buy, you can do so with no auction fees and excellent prices with our unique private buying service. Whether you have one pre-owned Rolex watch or several second-hand Rolex watches for men to sell, the process is very simple, secure and fast when you sell to us.
You will see our professional valuation service when you want to sell Rolex timepieces, as well as luxury watches of all other kinds, once you get in touch with us. To buy a Rolex, take a look at our current stock of watches for more details on what we have. You can also see the other types of luxury watch brands we offer here.
Burlingtons Ltd have been buying and selling Rolex watches for over 20 years. Our experts are on hand to give you the best evaluation for your watch.
List of the Top Rolex Watches for Men – Ranked
Here we will give a rundown of our top 5 Rolex watches for men, along with a brief explanation of why we think they are so great: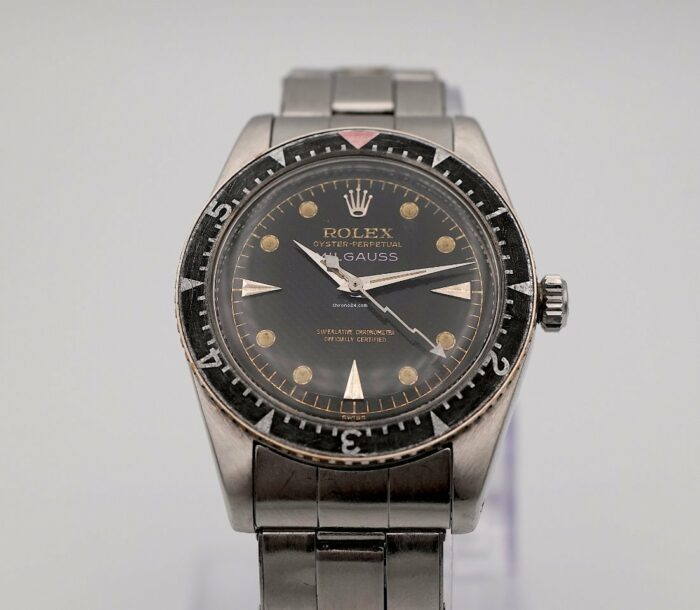 5. Rolex Oyster Perpetual
The Oyster Perpetual is the classic 'entry-level' Rolex for men, if you can ever really have an entry-level Rolex watch. For the most part, people are happy to own the Oyster Perpetual model for its simple design and its inclusion of the famous Oyster case, housing the watch mechanism.
The Oyster Perpetual is also the original Rolex watch to feature the now-coveted Oyster bracelet. This is the lowest cost Rolex option for men on this rundown.
4. Rolex Datejust
Another classic design first is the Datejust. Before this watch, men would simply have to remember the date! Its unique large face and magnification bubble over the date display makes it a compact mid-size watch compared to some models on this list – but remains in our top 5.
The Rolex Datejust just happens to have a reputation for authentic and recognisable design, making it a very much desired watch that is ideal for men to wear.
3. Rolex GMT Master
The Rolex GMT is the discerning gentleman's Rolex watch, originally designed for pilots. The GMT Master has a very distinguished pedigree but simple features, most notably a 24-hour display. There are many different models with several bezel colours available to suit every taste.
The GMT Master is a pricier alternative to the Datejust and Oyster Perpetuals – something that will continue with the following watches as we move up the list.
2. Rolex Cosmograph Daytona
For the high-octane man, this is the watch for you. Also good for men who have a penchant for fast cars, as this watch was originally made for racing in Daytona Beach, Florida. The Daytona has three generations of design and is famous for its three large dials on the display.
This watch is also good for having a certain sense of Hollywood appeal (something many men have a fondness for too), as it was originally made for Paul Newman's racing career.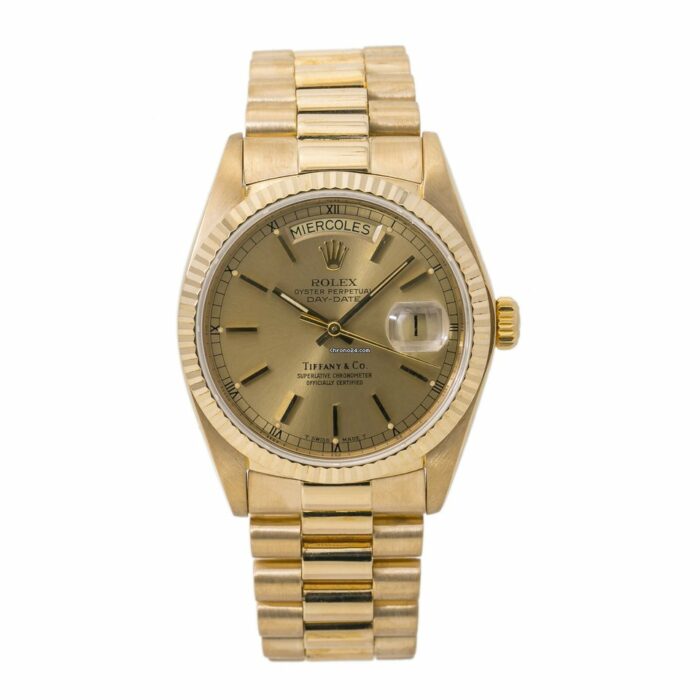 1. Rolex Day-Date
The final men's watch on our list is one that displays the full day name alongside the date! This feature is elegant and luxurious, using a very large window in the 12 position for showing the name of the day.
The Day Date is famous for its amount of variety. There are multiple different languages for the day and date display, so there are many versions of this globally-liked Rolex for men.
Burlingtons Ltd have been buying and selling vintage Rolex watches for over 20 years. Our experts are on hand to give you the best evaluation for your watch.
How to Choose Rolex Watches for Men
While many of the watches we mention will make great Rolex watches for men, these 5 above are the highlights based on their history, design and overall value on the market.
It's all well and good knowing that you want a watch, but how do you choose from the plethora of options and range of potential customisations when shopping for a Rolex? Buying a Rolex is almost like buying a car or a house – you need to think about it before deciding to buy.
Of course, you could casually stroll into a retailer and pick the one you like the look of, but there are some simple tips to make the choosing process less difficult. Below is a handy buying guide for people looking to purchase a men's Rolex watch:
Movement: The right movement is a key part of shopping for a watch. If you have a quartz movement you get reliability, but if you use a mechanical movement you get the benefit of kinetic energy powering the watch. Automatic movements are more expensive, but are often considered more well-crafted for watches such as Rolexes.
Type of watch: There are pilot's watches, dress watches, driving watches, diving watches and unique types, which tend to be quite simple and sleek. Unique watch types will have a smaller price tag than classic designs and the modern, minimal designs are also quite good if you want a new watch that is truly of its time.
Price: Price is a good guide for watch buying. You cannot expect to pay less than £4,000 for a genuine Rolex, but they go up quite a bit from there – many models and movements sit solidly in the £15,000 to £20,000 range. You can spend less by getting a pre-owned watch, as Rolex watches will lose value as soon as they are worn.
Complications: The more dials your watch has, such as the classic three-dial design of the Rolex Daytona, the more you will spend. Avoiding unnecessary complications on your watch will help to manage costs, which is a good tip for our buying guide. You might be able to lower the cost for your chosen watch with fewer dials, so look around.
Size: To a degree, size will have an impact on the price, but the real factor for size is how it fits each man. If you have a slimmer wrist a smaller size watch case is preferable, and most Rolex watches have a size range of 34mm to 40mm so there are plenty of options for all men. Big Rolex watches can be a problem with certain clothes.
Type of bracelet: The bracelet and clasp is just as important as the face of the watch in terms of aesthetics. The bracelets can vary substantially on a Rolex watch, from the interlinking President bracelet to the classic Oyster bracelet; some even feature leather and other fabrics. Metal watches have a sense of masculinity, so are a good choice.
Another choice when buying is whether you go for new, pre-owned or vintage Rolex watches. There is no 'best' option. Just remember that new Rolex watches are the most expensive option, and some vintage Rolex watches cost many times more than their original sale price.
When buying a new Rolex watch from an Official Rolex® Retailer you get the benefit of an authentic and brand new item, but you can just as easily buy a second-hand Rolex from a trusted seller for less than retail price.
How Do You Tell a Watch is For a Man or a Woman?
It is a good question! How is a watch masculine or feminine in the first place? Well, it is not an exact science and of course anyone can wear any type of watch should they wish. However, there are a few key ways you can tell men's and women's watch designs apart:
Colours: Men's watches tend to have neutral colours, such as a silver colour – seen on many stainless steel Rolex watches. Blacks, browns and greys are another common men's watch colour. Women's watches usually have much brighter colours.
Size: Most men's watches from Rolex are mid-size or large-size, so they will fit the average male wrist. Women's watches normally have smaller faces and bracelets, and the bracelets can also be a bit more colourful too.
Decoration: Women's watches tend to display more details like diamonds and other precious stones on the face, whereas men's watches are less decorative and more feature-heavy. You could say the features are the decoration for men's watches.
At the end of the day, a woman's watch belongs to a woman and a man's watch belongs to a man. It might be a cliche, but men's watches are just generally bigger and chunkier while women's watches are more sleek and elegant.
Anyone can wear a watch designed for either sex, but when people think about 'Rolex watches for men' you will typically see them featuring the above points.
Are Rolex Watches for Men Valuable?
Whether it is a single vintage Rolex or an entire Rolex collection, they are valuable – for men or women. A used or pre-owned watch is always less valuable than a new watch, even if you have never worn them. A few factors will affect the value of your Rolex watch should you wish to sell:
Materials
Condition
Movement
Model number and serial number
Most Rolex watches will hold a portion of their value. Even though a Rolex watch will drop its worth as soon as you buy them new, they will drop to a level that will normally remain stable, so you will always have a pretty good idea of your watches market value.
Are you looking to sell your Rolex watch? Our offer will be higher than you can achieve at auction.
Sell or Buy a Rolex With Our Unique Private Buying Service
Finding the right buyer or seller for a Rolex and many other types of luxury watches can seem difficult, as it is hard to know who you can trust. However, we have over 20 years of experience in the antique trade and have long-standing relationships with many reputable dealers, collectors, private buyers and interior designers – we are an established leader in the industry.
Whether you are buying or selling Rolex watches for men we can help. You will get the highest price when selling and we only offer the highest quality items for when you are looking to buy. Get in touch with us to book your free valuation today or browse our current stock to see what Rolex watches for men we have for sale.