The Timeless Appeal of Patek Philippe's Twenty~4 Collection
Patek Philippe's Twenty~4 collection has been at the forefront of women's luxury horology since it launched in 1999. The collection has been thoughtfully crafted to echo the dynamic lives of contemporary women who appreciate sophistication and precision.
Encapsulating Patek Philippe's traditional craftsmanship and forward-thinking innovation, the Twenty~4 collection has effortlessly upheld the brand's reputation for creating unmatched quality and design timepieces.
This collection is a staple in Patek Philippe's portfolio as it represents the commitment to inclusivity and diversity, recognising the growing demographic of female watch enthusiasts. With its intricate detailing and versatile design, the Twenty~4 collection continues to epitomise style, elegance and timeless allure in Patek Philippe's lineup.
---
Get a Professional Valuation for your Watch
---
Crafting Timeless Elegance
In creating the Twenty~4 collection, Patek Philippe aimed to cater directly to a female audience, acknowledging their unique preferences and the increasing demand for luxurious, feminine timepieces.
Inspired by the contemporary woman leading a dynamic and multifaceted lifestyle, the Twenty~4 collection was envisioned as a versatile companion for all times of the day, hence its name "Twenty~4". This collection embodies an appreciation for the woman who values time, balances multiple roles and navigates through life with grace and poise.
Crafted with meticulous attention to detail and adherence to the highest standards of horology, these timepieces team functionality with sophistication, presenting elegance without compromising Patek Philippe's precision and quality.
Embracing Feminine Sophistication
The Twenty~4 collection has a distinct character that mirrors the dynamism of modern women. The key defining features of this collection are carefully considered to blend functionality with a sophisticated style.
The most distinct characteristics of the Twenty~4 collection are: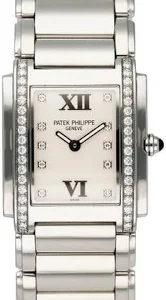 Case design: the collection offers both rectangular and round case designs. Both options provide a blend of traditional elegance and modern style, ensuring the timepiece can be effortlessly paired to match any day.

Exquisite dials: the dials of the Twenty~4 watch often feature intricate guilloche patterns or are set with sparkling diamonds, offering a luxurious touch to these timepieces. From classic black to contemporary grey and radiant blue, the dials allow for personal expression and style.

Complications: from simple time-only models to more advanced dual time zone mechanisms, the diverse functionality of this collection caters to the varying needs of modern women.

Strap options: the supple leather straps and polished steel or gold bracelets available in the Twenty~4 collection ensure a comfortable fit but also add to the overall visual appeal.

Attention to detail: from the choice of materials to the fine finishing, each watch is a work of art that showcases the brand's commitment to excellence and refined craftsmanship.
These characteristics combine to make the Twenty~4 collection a celebration of modern femininity, catering to the lifestyle of today's women who seek to express individuality and elegance through every aspect of their life.
Noteworthy Models
These timepieces, each distinctive in design and functionality, are crafted meticulously to complement varying lifestyles and aesthetic preferences.
Twenty-4 Ref. 4910: this was the inaugural model in the Twenty-4 Collection. The dual row of diamonds on either side of the case and the dial's timeless Roman numerals make this model a perfect blend of luxury and functionality.
Twenty-4 Automatic Ref. 7300: launched in 2018, this was the first model in the collection with a self-winding mechanical movement, showcasing Patek Philippe's commitment to technical mastery. Its round case design and Arabic numerals offer a fresh and modern take on the Twenty-4 aesthetic.
Twenty-4 Ref. 4910/1200A: this recent addition to the collection brings a vibrant touch to the lineup with its stunning blue sunburst dial. Accompanied by the iconic double-row diamond-set bezel and stainless-steel bracelet, it's a timepiece that encapsulates both sophistication and versatility.
Twenty-4 Haute Joaillerie Ref. 7300/1450R: this piece features a rose gold case, fully set with diamonds in a "random" or "snow" setting, demonstrating exceptional craftsmanship and creativity. Its self-winding movement ensures that its technical performance matches its aesthetic brilliance.
How the Twenty~4 Has Impacted Women's Watches Today
The Patek Philippe Twenty~4 collection has undoubtedly shaped the landscape of women's luxury watches since its creation. Its emphasis on both functionality and elegance has raised the bar for women's timepieces and reiterated the place of luxury watches in contemporary women's fashion.
The collection's hallmark combination of precious materials, meticulous craftsmanship and reliable technology has been widely adopted in the industry, setting a precedent for women's watches today. It has compelled other brands to rethink their approach, fostering an emphasis on creating watches that truly resonate with women's evolving preferences and lifestyles.
Discover The Worth of Your Twenty~4 Timepiece
If you are a privileged owner of a Twenty~4 watch and contemplating the prospect of selling, we can provide you with a valuation that truly appreciates its worth. Burlingtons Ltd. offers you the expertise of seasoned professionals who understand the intrinsic and market value of your precious timepiece.
Contact us today for a free, no-obligation valuation that honours the true value of your Patek Philippe Twenty~4 watch.