How Much is My Rolex Worth? How to Professionally Value Your Watch
If you enjoy buying, wearing, collecting or selling luxury watches such as Rolexes – possibly the most famous watch brand in the world – then you may wonder how much your Rolex is worth. It is a question we receive constantly from people eager to sell their new or pre-owned Rolex watches with our unique private buying service. So, we can provide some useful information.
To book a free Rolex valuation and get the advantage of selling your watch with no auction fees through our unique service, simply fill out the enquiry form below:
Whether buying or selling, the value of a watch of any model or make can vary substantially. When it comes to watches, experts in the watch industry use the following as a pricing guide:
Model number and serial number: The model number relates to the watch name and movement, such as a Rolex Submariner or a Rolex Oyster Perpetual, and the serial number gives you the production date. The serial number is unique and will also help to authenticate your watch. Model and serial numbers are vital to deciding the value.
Watch materials: While a genuine Rolex watch with a rare model number or serial number may hold value, the material of the watch is the next consideration. For example, a stainless steel Rolex watch of a certain model may be worth less than a gold version of the same style. Another factor is the presence of precious stones.
Boxes and certification papers: A Rolex watch that comes with its original box and certification papers is worth more than a watch by itself. New Rolexes come with a few extras in the box and it is common for people to discard or simply lose certificates of authenticity, other papers, or the box itself – particularly with vintage Rolex watches.
Trends in Rolex watch demand and other market factors, such as the price of gold, also come into play. When you sell your Rolex it is difficult to have a clear idea of what it is worth before choosing an appraiser or estimator, but we will explain what they look for.
By selling with us you will never pay anything in fees or any other type of deductions that other watch buyers charge. You will see our team is precise and accurate when they value your watch once you get in touch with us to book your free valuation.
---
Our Customers Say
"What a pleasure to have Daniel come to our home! He is very knowledgeable, honest and charming. He paid good prices for silver and jewellery, with none of the hassle and expenses of selling at auction."
– Gillian Swinburn
---
What Factors Affect How Much My Rolex is Worth?
Very rare and vintage Rolex watches, especially those with boxes, are often much more valuable than their modern counterparts. Certain models are of historical note, too.
For example, the Rolex Submariner is a model originally made for diving. As a result, a like-new watch with all the original papers from the watch's 1954 debut is more valuable than a box-free new watch.
It can be frustrating, but luxury watches share a certain similarity to art – as you never know who it will be perfect for, or who will pay a premium for a piece. However, some of the main factors that will influence how much your Rolex is worth include the following:
Bracelet and clasp condition: A Rolex watch is much more than the timepiece, the bracelets and clasps that affix them to your wrist are also important. Broken, damaged or poorly-functioning bracelets lower the value of the watch. Additionally, a non-original replacement clasp or watch bracelet may reduce the value even further.
Calibre condition: The condition of the calibre, or movement – the mechanism that makes the watch tick, is linked to its worth. Rolex watches are world-renowned for their quality movements, so even if a watch is not working perfectly it may be possible to fix it. However, badly-damaged movements can bring the value down hugely.
Type of movement: The type of movement is another factor when deciding how much your Rolex is worth. Most modern Rolexes use self-winding movements, but some still use manual mechanisms to keep time. There is no 'best' movement but some are rarer or more desirable – and therefore more valuable.
Scratches: The outside of the watch is one thing to look out for, with a lack of scratches being a key sign of a higher value. In many cases, smaller scratches will not affect the value too much. However, some scratches on softer metals can cut pretty deep – making repairs impossible and therefore lowering the watch's worth.
History: Prestige can come from the make and model in historical terms, but if a watch comes with a good story – such as a notable former owner – then it may be worth even more. For example, watches that were used as part of the costumes in films and television can often carry higher worth to the right collectors.
The condition of the watch will impact its value greatly – again, this is especially true for vintage Rolex models. You should not worry about the condition of your Rolex affecting the value too much, as they are designed to be lifelong items and are often passed down through generations in perfect working order. Simple cleaning with a gentle microfibre cloth is all that is required.
Does a Rolex Watch Hold its Value?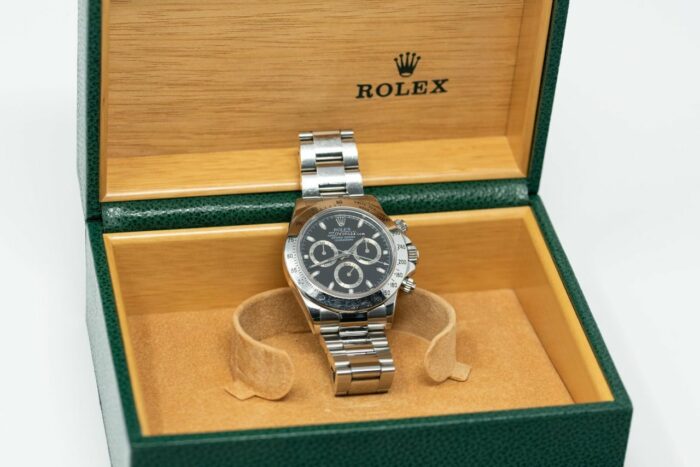 Rolex watches are usually a good investment and, over enough time, the value can hold or even increase. However, a few things that can lower the value of a watch – such as the following:
Pre-owned vs. new: Rolex watches are always more expensive to buy brand new, but this does not mean you will get the same value for it on the second-hand market – even if you have never worn it. New Rolex watches lose value from the moment they are purchased, just like a luxury car or other high-value items.
Low demand: Although a gold Rolex stuffed with diamonds might have a higher value on paper there may be less of a demand for it on the open market – so this could mean the watch is worth less than a stainless steel alternative. It is a tricky balance to get right – and demand varies substantially as trends change.
A Rolex watch is a joy to own, wear or simply look at – so it is best not to think of them as an investment. However, Rolexes will always hold some of their original value – and possibly more.
How to Get a Free, Professional Rolex Watch Valuation
We can provide a private, convenient and obligation-free valuation for your Rolex watch and any of the other items that we buy. For an idea of the type of watches that we want to buy you can take a quick look at our current stock for more information. We have an interest in buying GMT, Explorer, Sea Dweller, Submariner, Oyster Perpetual and Datejust Rolex watches among others.
Our team are not only leading experts in the valuation of watches from a range of luxury brands, but they also offer a professional and friendly service at each stage of the transaction. You will get a cash payment for the full value of your items with no fees – paid instantly via BACS.
Please feel free to get in touch with us today to book your complimentary Rolex valuation.