Rolex Day-Date: The Trailblazing Luxury Rolex Watch
The Rolex Oyster Perpetual Day-Date is a very famous luxury watch ‒ considered the finest of watches upon its release in 1956 and notable for its innovation of including the full name of the day of the week and the date simultaneously on its dial. As Rolex watches go it is easily one of the most sought-after models, with many references available for both men and women.
There is a lot of variation within the Rolex Day-Date, but you can expect some of the following features from most of the references released by the Rolex company over the years:
Day and date display: The full name of the day, the date and (of course) the precise, accurate timing of a quality Swiss watch was a novel idea for the model upon release. Ordinarily, the complex mechanisms for such a display were only possible on larger clocks. The Day-Date displays the name of the day by giving up the 12 numerals.
Precious metals: Crafted from the noblest of metal for the finest appearance, this Rolex can make use of platinum, yellow, rose or white 18 ct gold, so they can be quite costly. Everose gold watches use small amounts of copper and platinum to create a light, pinkish hue on the materials. Everose gold is a popular watch material for women.
President bracelet: Collectors and watch aficionados sometimes call the Rolex Day-Date the 'Day-Date President' or simply 'the President', thanks to the President bracelet that comes with the most Day-Dates. The President watch bracelet is known for its semi-circular chain links and for only being made with precious metals.
If you have a Rolex Day-Date to sell, you can do it without any auction fees by using our unique private buying service. Our professional, friendly service is a refreshing way to sell many of the high-value items that we buy. Please feel free to get in touch with us to book your no-obligation valuation today.
Burlingtons Ltd have been buying and selling Rolex watches for over 20 years. Our experts are on hand to give you the best evaluation for your watch .
More About Rolex Day-Date References
It has a very long and varied watch history, so the Rolex Day-Date has a lot to offer for buyers, sellers or collectors. Demand is always high and the diversity of watch models available means that there is something for every taste.
As the watch case and bracelet are made exclusively of gold or other precious metals, colour options focus on the dials; these come in silver, blue, black, green, chocolate, and vibrant 'Lacquered Stella' designs, which use very colourful enamel.
A few notable references that are emblematic of the Rolex Day-Date design include:
Rolex Day-Date ref. 1803
The 1803 gets the first mention on our list as it is very similar to the original, which some would say is the best Rolex Day-Date design, but with some updated movements that make it a lot more reliable for the modern watch wearer. It was made for 20 years, up until the mid-1970s.
The 1803 is a vintage model with the iconic fluted bezel and 36 mm case. If you are looking for a watch that exudes all things Day-Date, the 1803 is a great choice. However, the size of the watch will make the 1803 a less grandiose watch than some later Day-Dates – it is a subtle option.
---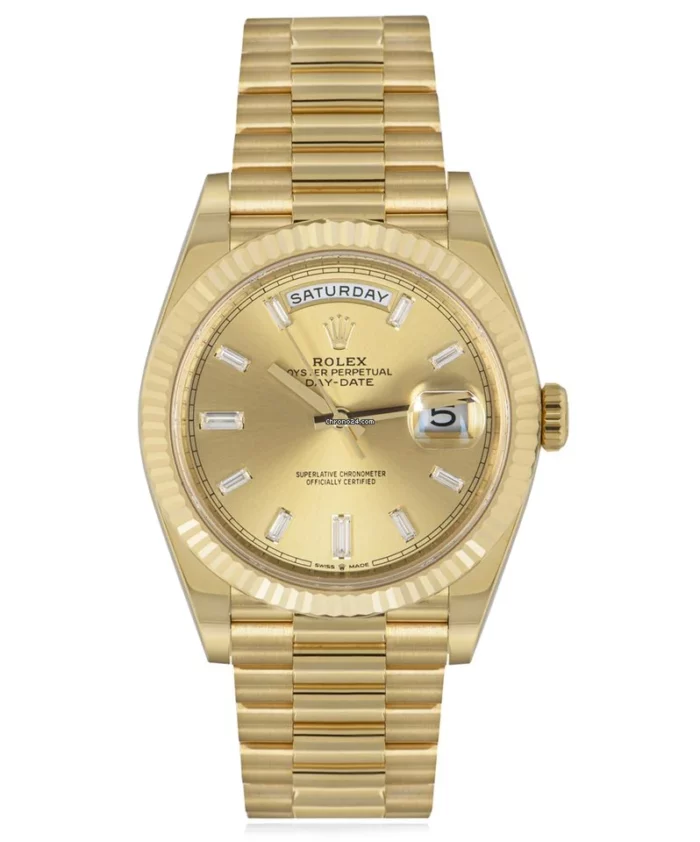 Rolex Day-Date ref. 228238
The 228238 is part of the Day-Date 40 collection, first released in 2015. It gets its spot on the list because it's a newer Day-Date but comes with a classic look. The 228238 uses 18ct gold and has that 'traditional' Day-Date look, all while incorporating some more modern features for the wearer.
The 228238 features a chunkier 40 mm case and scratch-resistant sapphire crystal with a self-winding movement and 70 hours power reserve. Many varieties of the Day-Date 40 feature diamond-set bezels and Everose gold for a bolder spin on the 228238's classic appearance.
---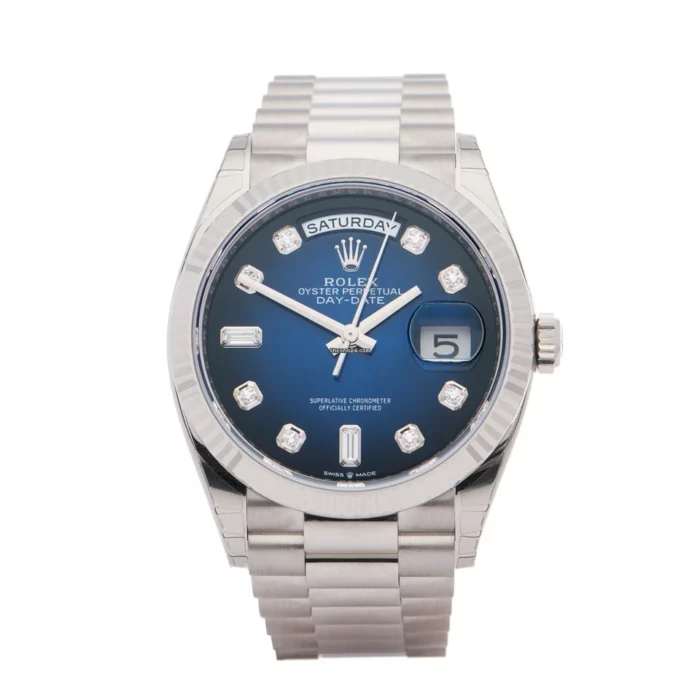 Rolex Day-Date ref. 128239
With such a historic lifespan, Day-Dates are one of the original models of the modern era, so there has been refinement in the design over time. Nowhere is this more evident than in the 128239, a white gold variety of the Rolex Day-Date 36 with a mid-size 36 mm case.
Winning features of the watch include the calibre 3255 movement, which makes it a very high-performance watch. Diverse dial colours, bezels with diamond settings and finishes make this a nice modern take on the Rolex Day-Date, balancing classic and contemporary.
---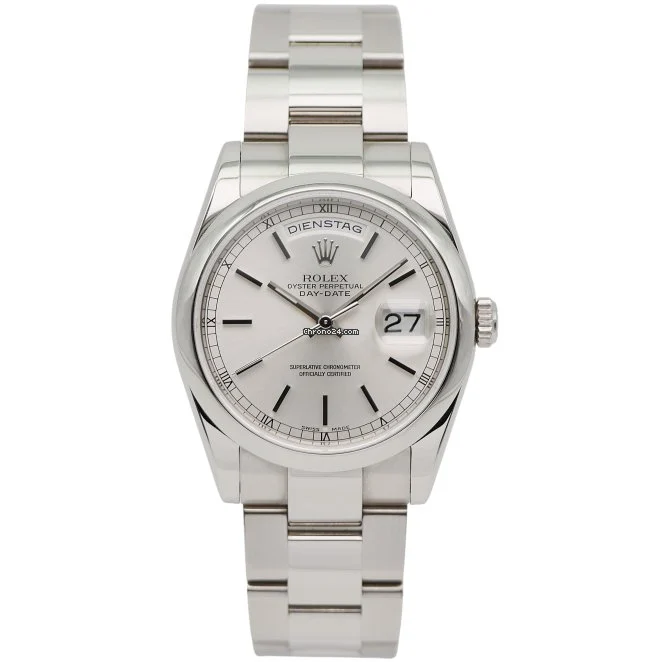 Rolex Day-Date ref. 118209
This Day-Date is interesting because it is the only one on our list, and one of only a few from the watch's decade-long history, to feature an Oyster bracelet. Only available in white gold, the combination of material type and bracelet design make it a sleek, smooth and discrete watch.
You could mistake it for any type of stainless steel Rolex at first glance, so it's got a sports watch feel alongside all the features of a luxury watch. There are many dials available, too, including white and ice blue. These will nicely complement the 118209's silvery glimmers and icy-white sheen.
Burlingtons Ltd have been buying and selling vintage Rolex watches for over 20 years. Our experts are on hand to give you the best evaluation for your watch.
How to Buy a New or Used Rolex Day-Date Watch
Rolex Day-Date watches have enduring and global popularity. Day names are available in more than 20 languages, so demand is high. However, there is plenty of diversity across the new and used markets, thanks to the many references released over the years. It should not be too hard to get your hands on one – just remember the materials of the watch will affect the price.
If you want a used Rolex Day-Date the best place to look is at our current stock of luxury watches. Many types of Rolex watch models come in regularly, so check back often. Whether you want an olive green dial, an ice blue dial or something else entirely, you can also find a new Rolex Day-Date from an Official Rolex® Retailer. You can search for one on the official Rolex website.
How to Sell a Used Rolex Day-Date Watch
Rolex Day-Dates are sought after on the second-hand market, and the materials many of the references use mean that you often get a good price. But you may still get problems with auction fees unless you use our private buying service. Our selling process works using the following steps:
Booking your valuation
Once a time and date have been agreed, we will visit you at your place of residence to conduct a private valuation.
Accepting our offer
Once we have inspected your rolex watch, we will make you an offer.
Receiving your payment
You will receive your payment then and there through BACS as this is the fastest form of payment.
Book a valuation: The first thing to do is to book your valuation with us, which will take place in the privacy of your home. When you contact us we will ask for some details on the watch, confirm our interest and suggest a rough estimate on the offer price.
Accept our offer: One of our friendly, punctual and experienced team members will assess your watch and make a fair offer. If you have questions on how we arrive at the price we will be glad to explain the different factors, such as the current price of gold and other relevant details.
Receive your payment: Once you accept our offer, which is always obligation-free, you will receive the full cash payment. All payments have zero fees or deductions and are usually made via BACS. We do not leave until the cash has arrived in your account.
Our direct transactions and completely private buying service make us a favourite for people looking to get the best possible price for their Rolex Day-Date or other high-value items. We will be very happy to assess multiple watches or other items at the same time when we visit you.
With clear values of honesty and professionalism, we garner a lot of praise. See what one person says about selling with us below:
---
"I have just sold my Rolex Submariner to Daniel. He gave me a very fair price and the transaction was flawless. He travelled over 90 miles to be with me and was spot on time too! A real honourable gentleman and I would not hesitate to deal with him again."
– Pelham Temple, London.
---
You can see more happy testimonials on our homepage before booking your valuation.
Are you looking to sell your Rolex watch? Our offer will be higher than you can achieve at auction.
Buy and Sell Rolex Day-Date Watches
We hope you understand more about why the Rolex Oyster Perpetual Day-Date is one of the most popular Rolex watches of all time. Although a simple innovation, the day and date display was a groundbreaking feature in the 1950s, and the basic features make it very popular.
With luxurious metals, precious stones and iconic designs, Day-Dates can fetch high prices on the used and vintage market. You can sell your Rolex Day-Date for the highest price by using our buying service. Please feel free to get in touch with us to book a valuation today.